These suits have been created as an option for Low Budget projects such as Non-Profits, Fund Raisers, Students, Events, Parties, Educational etc. They are still good quality but much lower fidelity than our regular line of suits.  As a for instance of cost-cutting these do not come with gold faceplates as do our film quality suits.   The suits have been simplified to keep our cleaning costs low.   They are also simple and lightweight so shipping is cheaper.  If filmed and lit properly they look very good and we have many letters of appreciation on file.  We are the only source for these suits as rentals.   We are developing a "No Frills" package where you will prepare your own paperwork to help make this possible and keep costs low.   Therefore, please refer to the DETAILED FAQ page for details on what is required to rent.   These are in constant demand so please book in advance to insure availability.   These require a $1,950 Security deposit as well as Certificate of Insurance naming WonderWorks inc. as Additional Insured for $1,000,000 in liability.
  These may only be used for personal use, no commercial applications such as film, TV, media, photos, art, etc. unless rented directly through WonderWorks inc.   All Copyrights are those of WonderWorks inc. and will be strictly enforced.   The suits we rent have been ruggedized and made to be somewhat more realistic than those foreign-made suits that can be purchased from the internet. 
  We have phased out our commercial grade rental suits for lack of interest and sold them at auction  to other companies.  As a result, we now have a very limited number of A7L Moon Suit rentals starting at $900 PER WEEK complete with helmets, gloves, patches and boots.   PLEASE:  NO FURTHER DISCOUNTS, SHORTER RENTAL PERIODS, etc.   Further to cost cutting, THESE DO NOT COME WITH COOLING SYSTEMS OF ANY SORT but are made of material which wicks moisture and is comfortable in a shirt-sleeve environment.  As shown, there other helmets available as options, for an additional fee, but do not come with the suits, Nor can they be rented separately.   Excessive dirt or damage will be billed at cost of Labor at the shop rate of $100 per hour.  We reserve the right to refuse rentals to anyone who is abusive or overly aggressive to our staff.
Click Most Images to Enlarge.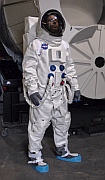 A7L Lunar Moon suit.   Costume grade
starting at $975 per 8 day week.   Per day
after one week will be billed at $100 per
day
NO EXCEPTIONS.   NO DAILY RENTALS.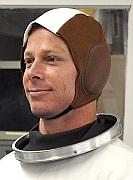 Commercial Grade A7L "Snoopy" Cap .   $50
Extra Per Week with Suit Rental ONLY.   NO
EXCEPTIONS.   NO DAILY RENTALS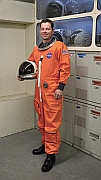 LES ACES Style of  Orange Costume Grade
Suit Only - Starting at $975 Per Week
Without Helmet.   Shown w/ Optional $150
per 8 day week helmet.    Per day after one
week will be billed at $100 per day
NO EXCEPTIONS.     NO DAILY RENTALS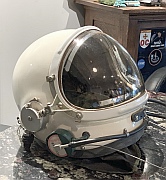 Bubble Face Shield.  ACES/ LES - Style
Helmet Rental.  This helmet has been
modified from a real pressure helmet to
make it comfortable and suitable to wear
safely without a breathing system.   
Optional with Orange suits ONLY for $250
add'l per week.
NOT AVAILABLE SEPARATELY.   NO
EXCEPTIONS.   NO DAILY RENTALS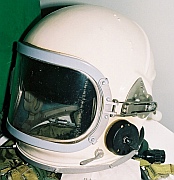 ACES/ LES - Style Helmet Rental.   Note: 
This helmet has been modified from a real
helmet to make it suitable for wear safely
without a breathing system.     Optional
with Orange suits ONLY for $100 add'l per
week.
NOT AVAILABLE SEPARATELY.   NO
EXCEPTIONS.   NO DAILY RENTALS
BUDGET SPACE SUIT RENTALS
HOME
SPACE SUIT Rentals/ Choose-A-Suit
SPACE CAPSULES, Space Craft, Space Ships - Apollo to CEV
SPACE SHUTTLE Rental
Space Shuttle Simulator Rental
INTERNATIONAL SPACE STATION (ISS) Rental
SPACE HABITATS/ Mars Hab/ Space LAB - Rental
Space Related & General Gallery
FAQ - Space Suit Replica Rental
FAQ - Space Ship/ Craft Replica Rentals
Low Budget - Space Suit Rental
SpaceSuit Construction
SpaceShip One
Space Movie Consultant
Space Education
Miniatures - General
Miniatures - Buildings
Museums, Theme Parks, Themed Attractions
Props/Sets
Art & Photography
Movies
Credits, History, Articles
Awards
Auto, Custom and Show Cars
Planes, Trains, Ships
Concerts, Events
Contacts, Directions
Misc., News, Legal
FOR SALE
WANTED