IN A HURRY???  Try our  Space SUIT PICKER Web Page.  Choose by color, era, type, location, sexiness, etc.  It is being BETA tested.  Our Space Suit Rental Replica FAQ page will answer most of your questions.  The address is   http://www.wonderworksweb.com/Choose_A_Suit/index.html   if the Link fails.
These are NOT Toys, Halloween Costumes or dated Space Suit film wardrobe tech.   Our NASA-Style Space Suits have been designed to be light and comfortable and do NOT require an On-Site Technician or cooling system for filming.   The cost savings to you is more than the rental fee of our suit.   View the video to see our most complex suit being donned in less than 3 minutes without a trained and expensive "technician" on standby!   No hidden expenses.   ALL Film Grade EMU, A7L and LEO suits come equipped with a complete Passive Cooling System, as used by the American Military in desert combat.   We do not use an arbitrary, ambiguous, "Good" or "A Level" rating system.   Instead we offer "Film Grade (Highly Detailed for Movies)" and "Costume Grade" (for Students, Events, Low Budget films, etc.).
  The MARTIAN, INTERSTELLAR, STAR WARS, GRAVITY, AD ASTRA, the upcoming GEOSTORM, FOR ALL MANKIND, SPACE FORCE,  LUCIFER, The Right Stuff TV,  etc. have all created a demand for space related items, especially MARS.   As a result, we have added new space suits of our own Royalty Free Design to our rental package, that are similarly styled, called LEO™.   We have the decades old standards and more are available now than ever.   WonderWorks™ inc., near Hollywood, has been producing realistic and fantasy space suit replicas for the film, museum and aerospace industries for more than 40 years since 1977.    Our spacesuit rentals range from simplistic and inexpensive walk-arounds to Real suits.   We discount Space Suits heavily when rented with ISS Space Station, Space Habitat, Space Capsule or Space Shuttle
  Our SEXY, FORM FITTING, LEO SPACE SUITS are similar in style to that of the suits in INTERSTELLAR and THE MARTIAN.   In fact, our LEO suit was so well liked by the producers  of The Martian that it was worn by Matt Damon in one of the posters for the film instead of the Hero suit!   Check out our involvement with the smash-hit  GRAVITY also.   View more suits at our other sites specifically for Future, Martian, and Mercury Programs.  Much of our research material was provided directly from NASA and Privatized Aerospace or their vendors.   Our clients include NASA, X-Prize - Spaceship One, Space Camp, Lockheed Martin SKUNKWORKS, SpaceX and most major film studios or museums in the world.    In creating our suits ,we purchased from auction, and referenced, real ACES, Apollo 11 - 13  A7L (Moon/ Lunar suit) and Space Shuttle EVA/ EMU/ IVA space suit components for accuracy.   We create new suits 12-20 at a time as shown at  Space Suit Construction
  We phased out our Commercial Grade rental suits due to lack of interest and sold them at auction.  We still have a limited number of inexpensive A7L Moon/Lunar Suit rentals starting at $950 per week.   Click Here for Low Budget Suits specifically for Students, Special Events, Educational, etc.   PLEASE NO FURTHER DISCOUNTS OR SHORTER RENTAL PERIODS POSSIBLE.
Call 1.818.992.8811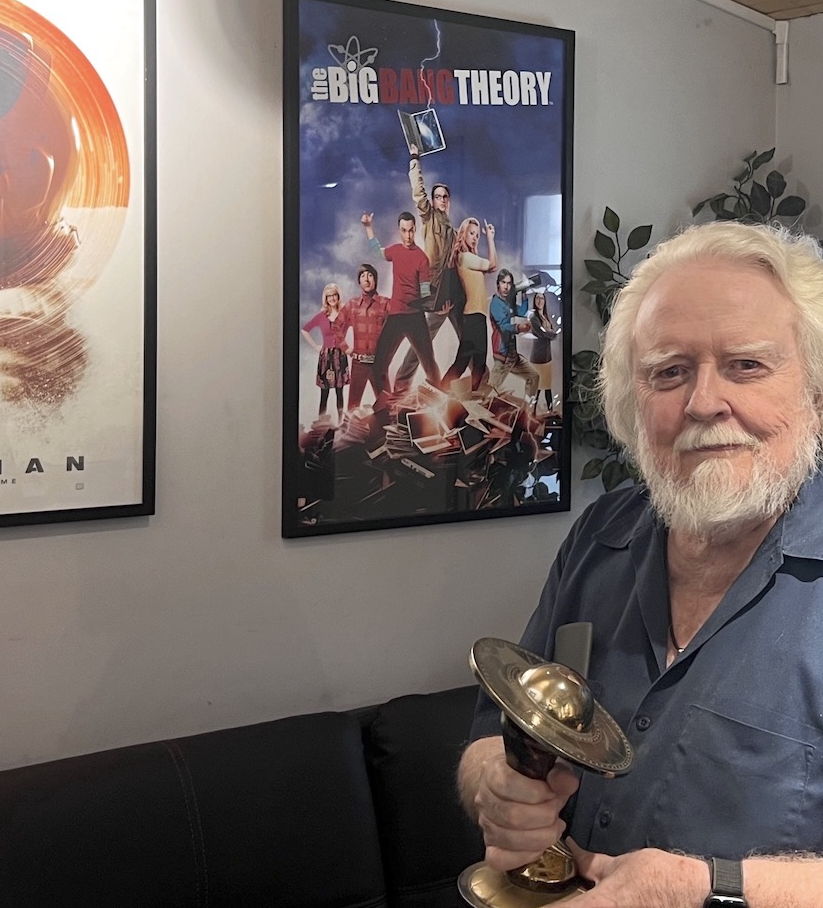 Click here for more suits of this style. 
The Martian Alternate Poster features
our LEO™©  (Low Earth Orbit) Spacesuit
as inspired by real Aerospace.  The  Hero
Space Suit for most of the movie was
created solely for the film and
Copyrighted by the studio.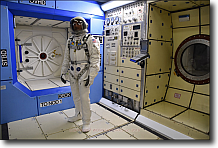 The LEO, Low Earth Orbit suit in
WonderWorks NASA ISS (International
Space Station)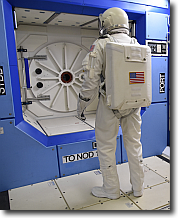 Our Standard LEO (Low Earth Orbit)
spacesuit with Optional Back Pack in
WonderWorks NASA ISS (International
Space Station).  DSC_1027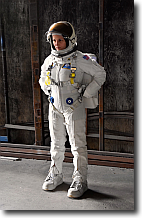 Standard LEO with Optional Backpack on
Andrea Van Epps.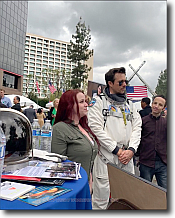 Eilish, Eamonn & Ryan in LEO suit  at
First Responders Fundraiser on a hot
California day.  Our  Military Grade
Passive Cooling System is comfortable
enough to wear all day WITHOUT a
technician or noisy apparatus.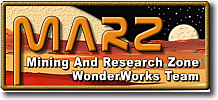 MARS/ MARZ Patch from our newest Web
site martianspacesuit.com where there is
a lot more information specifically for
MARS.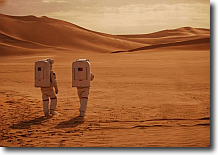 EMU/ EVA Space Shuttle Suit by
WonderWorks as in Stephen Hawking's
Universe,  shot in South Africa as the
MARTIAN environment.   Our suits are
upgraded for light weight, comfort, ease
of use and visual impact.   No technicians
or exterior cooling system required.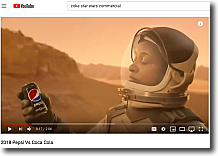 LEO in MARS PEPSI Commercial.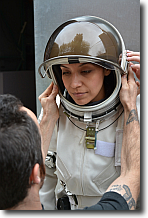 In response to requests for a space suit
that is sleek, modern and sexy, like those
in INTERSTELLAR and THE MARTIAN,
WonderWorks inc. has created the LEO
(Low Earth Orbit) Space Suit ™© 2016. 
BP1_0956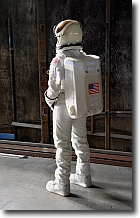 LEO with Backpack on Andrea Van Epps. 
Complete with cooling system.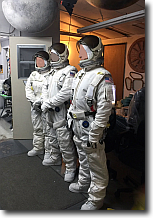 This shot clearly shows how flexible in
style, detail and custom sizing our
Modern LEO Space Suits can be.  These
have the Optional Boots and Harnesses. 
The woman is petite and still looks good.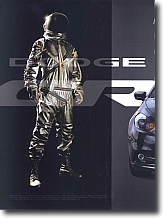 Mercury Spacesuit rental with optional
NASA-Style ACES/LES HELMET as used in
Dodge Ad looks very Retro-Future.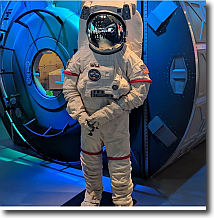 EMU Suit and Heavy Duty Mannequin in
front of our MARS habitat at HPE Hab19
exhibit.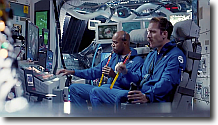 Blue Flight Suits  in Space Shuttle Set
used in Slim Jim Commercial as a 2 man
capsule similar to Orion.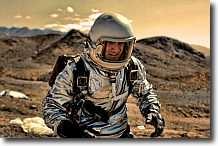 Mercury Suit with Optional
Interchangeable helmet.   Part of a new
Mix and Match system to allow for
variety.  Photo courtesy of Kevin Margo.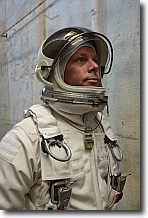 Productions want to show actors in our
Stylish, Sexy, Heroic,  Space
Suit by WonderWorks inc.  These Suits
are 100% our own design, Trademarked
and Copyrighted as 
LEO™© 2014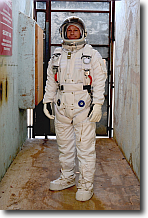 Check out our LEO space suits and Click
to view an Entire Section of information. 
The suit is stylistically similar to real
NASA and privatized space companies
current, modern and futuristic suits
being designed hence the similarity to
Interstellar and The MARTIAN.  
BP1_2203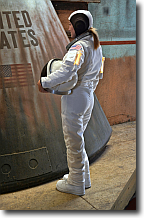 Grace Gilbertson modeling our new LEO
suit.   She is a Size 6 and it still looks
and feels great on her.  It is no longer
necessary to have suits that look like
those designed nearly a half century ago!  
BP1_2627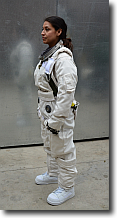 The LEO space suit can be configured in
many different and unique ways.   This
shot shows optional boots and harnesses. 
There is a range of sizes (men and
women), boots, gloves, accessories, etc.
available.  ™© 2016.  BP1_0956   Modeled
by Elaine.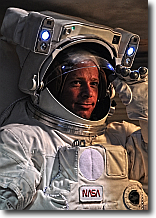 EMU Space Shuttle Astronaut EVA Suit
with lights.  Modeled by Dominic
Acquino.   Film Grade quality.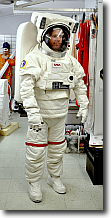 EMU Space Shuttle Astronaut Space Suit
rental - Film Grade Quality Rental w/
Passive Cooling System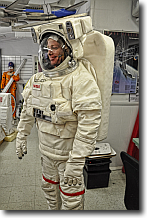 EMU - Space Shuttle EVA suit,
Contemporary/Modern.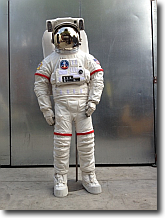 EMU EVA Space Suit on posable
mannequin. We have redesigned these
from the ground up to be lightweight and
production friendly.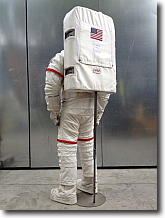 EMU EVA rental space suits can be fitted
onto articulated mannequins for still
shoots, store displays, etc.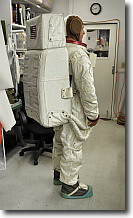 Apollo A7L/ Lunar Film Grade Suit with
Snoopy Cap.  This rental is similar to
that worn by Buzz Aldrin and Neal
Armstrong on the moon.  In fact both
astronauts have worn our suits during
promotions.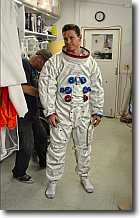 Apollo A7L Film Grade Suit.  Back Pack
and Helmet removed.  Our new suits now
weigh less than 35 pounds, rather than
the 100 pounds previously, and that
includes the newest tech cooling system
rather than an outdated
external system as before.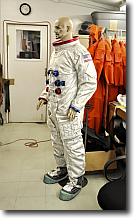 APOLLO  A7L EVA Suit, Helmet Off.  NASA
- Style Film Grade Rental.  DSC_0004.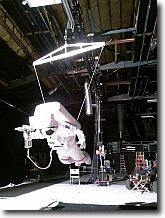 All of our suits now come with provision
slots to allow for attaching standard
flying rigs for the purpose of creating
simulated weightlessness. Here is a shot
at Branam Enterprises with one of our
EMU suits being shot for a commercial.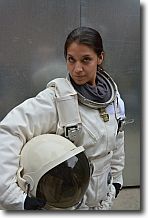 LEO™© 2014 (Low Earth Orbit) Space Suit
shown with ACES style helmet and
Gorget.  Modeled by Elaine.   BP1_0985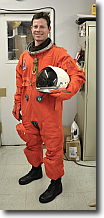 Space Shuttle ACES suit still in use and
similar to LES/ LOL of NASA's Space
Shuttle ERA    Being phased out for white
suits.   Partial Pressure Suits.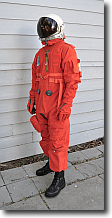 Newest Space Shuttle ACES Partial
Pressure Suit (similar to LES/ LOL suits)  
Rental Only.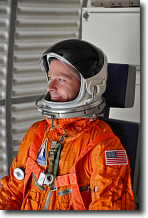 LES/ ACES Film Grade, Contemporary
Style in Shuttle Mid-Deck.   Derived from
Real Partial Pressure Suit.   DSC_0178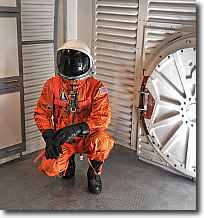 LES/ ACES Film Grade, Contemporary
Style in Shuttle Mid-Deck.  Derived from
Real Partial Pressure Suit.  DSC_0206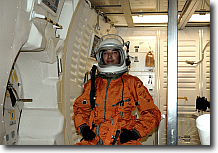 LES - ACES-Style Launch/ Reentry Orange
Shuttle Suit as seen in Space Cadets -
Film Grade.   Made from real flight
hardware.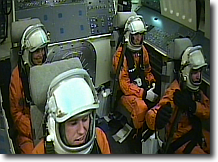 Space Shuttle ACES/ LES style replica
space suit rental as seen in the hit
Endemol UK Reality show Space Cadets
Episode 1of 6.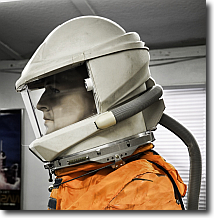 NEW...  Futuristic Space Suit/ Haz Mat
helmet.  Designed to be interchangeable
with all other helmets and suits in our
lineup.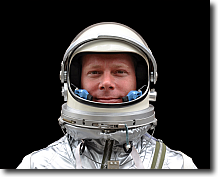 MERCURY ASTRONAUT  Space Suit Film
Grade Rental close up of detail.   Note
functioning neck ring.  Modeled by
Dominic.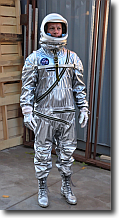 MERCURY ASTRONAUT Film Grade Space
Suit Rental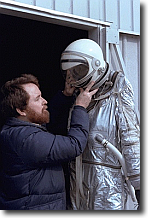 Brick Price with WonderWorks original
Mercury Space Suit Rental in the '70's
Historical reference Only.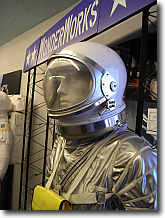 Mercury Suit currently on exhibit in
Italy's  Space Camp.  DSCN3067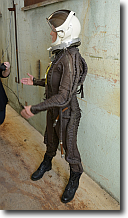 NPressurized Flight Suit w/ optional
ACES helmet and Neck Ring.  Real suit
modified for film use.  Modeled by
Andrea Van Epps   BP1_1297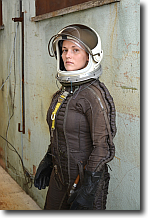 Pressurized Flight Suit w/ optional ACES
helmet and Neck Ring.  Modeled by
Andrea VanEpps  BP1_1302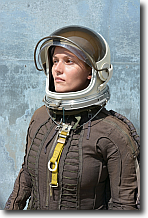 Retro Styled Pressurized Flight Suit w/
optional ACES helmet and Neck Ring.  
Modeled by Andrea VanEpps   BP1_1287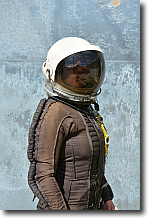 Pressurized Flight Suit w/ optional ACES
helmet and Neck Ring.   Retro Modern or
Steam Punk look.  Modeled by Andrea
VanEpps   BP1_1286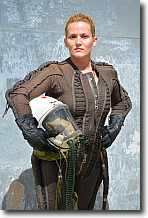 NEW Pressurized Flight Suit w/ optional
Chinese TK1 helmet and Neck Ring. 
BP1_1297   Modeled by Andrea VanEpps   
BP1_1220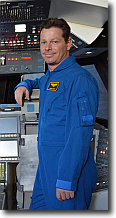 Blue Flight Suit Royal 2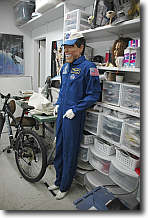 Flight Suit as used by crew in MIR/ ISS/
Shuttle while in Space.  Two come free
with ISS Space Station.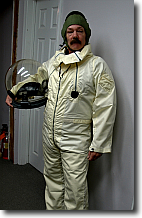 Vintage 50's Style Rental Haz-Mat or
Retro-Modern Space Suit.  Film Grade
made from a real NASA Haz Mat suit of
the 50's.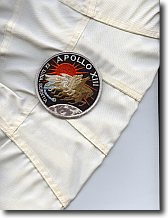 All patches and materials look real on
film or TV.   WonderWorks has patches
that are royalty free and recognized by
NASA.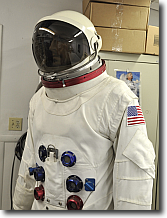 Our new Mix And Match system allows
for any helmet to be mounted on any
other suit of ours.   Here is the Lunar A7L
rental with an ACES/ LES style shuttle
helmet.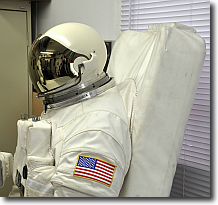 Here the new Mix And Match system
allows for an ACES/ LES helmet (with
real gold faceplate) to be mounted on
any other suit of ours, including this EMU
Shuttle Suit rental.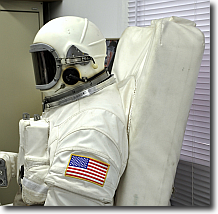 The Mix And Match system even allows
for a real retro vintage Russian helmet
to be mounted on any other suit of ours
including the EMU shown.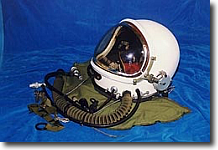 Russian/ Chinese Spacesuit Helmet - EMU/
EVA.   NOT AVAILABLE AS A RENTAL
SEPARATELY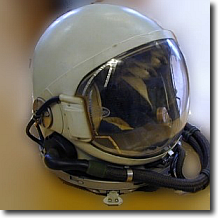 Real Pressure Helmet similar those worn
on Space Shuttle EMU/ EVA
NOT AVAILABLE AS A RENTAL
SEPARATELY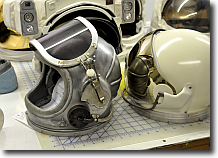 This is the beginning of a line of Retro/
Steam Punk helmets as an option to our
regular line.  When mated up to our
Mercury, HALO, LEO or EVA suits, it looks
amazing!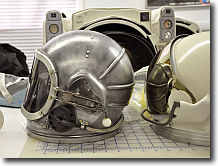 Retro or Steam Punk Style Helmet.  This
entire helmet is formed of aluminum and
made from real aerospace hardware. 
We will be adding hoses and brass
details to further the Steam Punk look. 
One only currently for rent.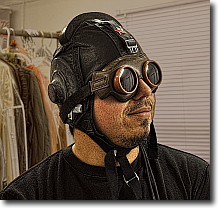 Retro Steam Punk Leather and Cloth
Helmet.  Based on Real Hardware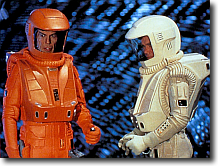 WonderWorks Designed and Built
SpaceSuits for Star Trek The Motion
Picture. 
NOT AVAILABLE FOR RENTAL - Shown for
history only.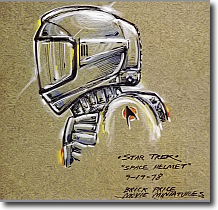 WonderWorks (aka Brick Price's Movie
Miniatures in the day)
Designed and Built Space Suits for Star
Trek The Motion Picture.    Historical
reference Only, NOT AVAILABLE FOR
RENTAL

WW Star Trek Space suits article.   The
Author got the details mostly right.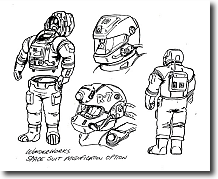 Futuristic Shuttle/ Mars EVA Suit
WonderWorks design Under
Construction©2016  Abandoned design
contemplated before NASA moved away
from cumberson hard shell suits.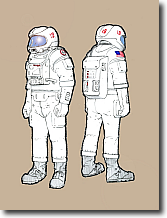 WonderWorks Futuristic Fantasy Suit
Design©2016   Under Construction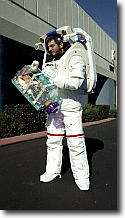 Future Fantasy Spacesuit, Mars or Moon/
Apollo style.
WonderWorks Historical Reference only. 
NOT AVAILABLE FOR RENTAL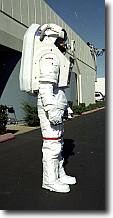 Space Suit Future Fantasy Apollo EVA
Moon style for Disney.   NOT AVAILABLE
FOR RENTAL
Space Cadets featured WonderWorks™
Space Suits, Space Shuttle Cockpit,
Shuttle Simulator, ISS and Space Station
as well as numerous other sets and
props.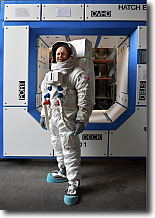 LA 3rd District Councilman Dennis Zine
trying on our A7L EVA spacesuit in front
of our  White_on-blue ISS end cap during
a recent visit.
Tool Time's Tim Allen in WW EMU Space
Suit Commercial Grade Historical
reference Only, NOT AVAILABLE FOR
RENTAL
WonderWorks inc bought a real NASA
Apollo A7L training suit at auction and
used it Internally as reference for our
suits to ensure accuracy.    SOLD - NOT
AVAILABLE FOR RENTAL
Mercury Flight Helmet Value of a Real
Flight Helmet
for Cost Comparison Reference
SPACE SUITS - Design, Construction & Rental,
Serving Aerospace, Film, Education &
Entertainment for More than 40 years!
HOME
SPACE SUIT Rentals/ Choose-A-Suit
SPACE SHUTTLE Rental
INTERNATIONAL SPACE STATION (ISS) Rental
SPACE CAPSULES, Space Craft, Space Ships - Apollo to CEV
Space Shuttle Simulator Rental
SPACE HABITATS/ Mars Hab/ Space LAB - Rental
Space Related & General Gallery
FAQ - Space Suit Replica Rental
FAQ - Space Ship/ Craft Replica Rentals
Low Budget - Space Suit Rental
SpaceSuit Construction
SpaceShip One
Space Movie Consultant
Space Education
Miniatures - General
Miniatures - Buildings
Museums, Theme Parks, Themed Attractions
Props/Sets
Art & Photography
Credits, History, Articles
Awards
Movies
Auto, Custom and Show Cars
Planes, Trains, Ships
Concerts, Events
Contacts, Directions
Misc., News, Legal
FOR SALE
WANTED